Further Your Knowledge, From Complete Beginner to Advanced Rider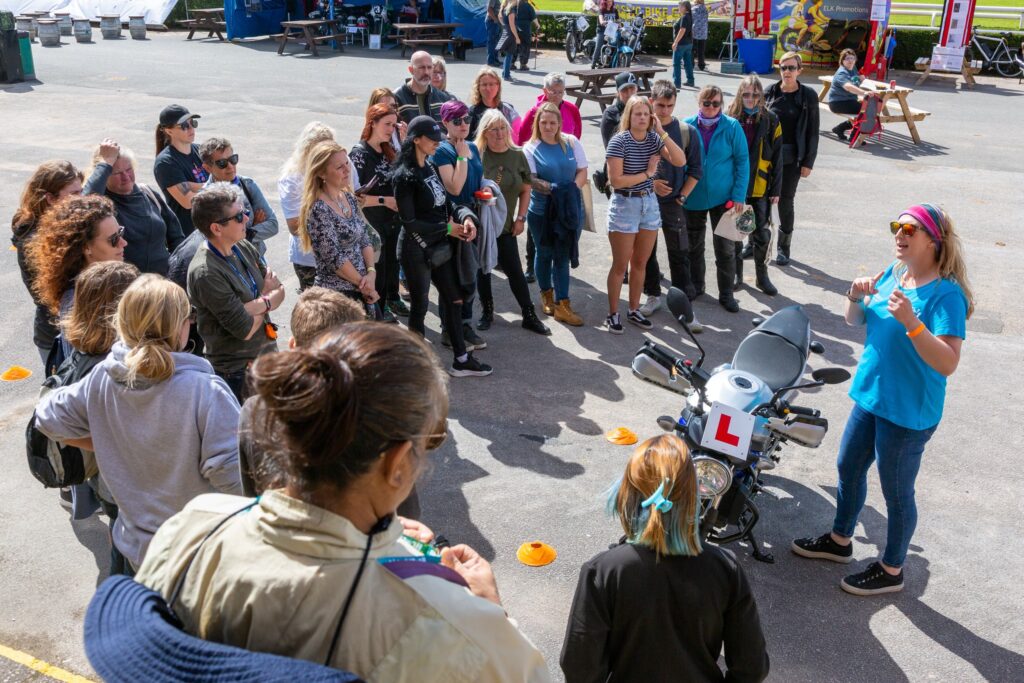 Not just for beginners, the Learner Zone – headed up by Laura of Women Only Motorcycle Training – is a place to ask all those pressing questions, get advice and further your knowledge no matter how experienced you are. Please note, whilst Laura started her training school for women, this area at the event (like all) is open to all genders.
It's a place where you can find out more information on CBTs, the first steps into biking, MOD skills, DAS courses, and in conjunction with Laura's neighbours RMT Motorcycle Training, further advanced training.
There will be a lowered 125 bike and a MOD ready bike for you to sit on and Laura will go through her top tips to prepare you for various courses and tests. It's a safe space to ask silly questions and they are very much welcomed! We will also be bringing back the very popular 'how to pick up a fallen bike' workshops and sit down sessions in this area.
Laura started Women Only Motorcycle Training in 2016. "I wanted to build a training platform that allowed women to learn to ride, or improve their skills in a safe environment, without judgement or being made to feel stupid or inadequate. I felt that the industry penalised women riders."
Laura's passion is for an emphasis on skill and technique, ensuring riders feel confident in their own ability. "The key is to not rush the basics. Giving students the knowledge, skills and more importantly the time to improve without feeling rushed or that they're not good enough"
Laura passed her test in the Summer of 2012. Since then she has done thousands of riding miles, including advanced riding qualifications; IAM and RoSPA, co-lead tours on the continent with RMT Motorcycle Training and organised UK tours and Off-road experiences with WOMT.
It hasn't always been easy though. After only 6 months of riding, she experienced her first accident and it crushed her confidence. Laura said "I had major anxiety about riding, struggled with negativity from other riders because after my crash, I rode too slow and as a result, I nearly gave it all up". However she was encouraged to keep going by fellow Motorcycle Instructor and owner of RMT Motorcycle Training, Simon Hayes, who assured her, the way to keep safe was through further training. After a mindset shift, she eventually understood the benefits of training and realised, she could have done so much more to prevent her accident. This gave Laura a passion for both rider education and support for anyone who might be feeling the same as her.
Laura's qualifications:
RoSPA Gold Badge Holder
IAM Advanced rider
CBT Instructor
DAS Instructor
ERS (Enhanced Rider Scheme) Instructor Advanced Instructor
European Tour Guide and Trainer